These prints are amazing. You have to see them in person to fully take in the richness of the colors and polished surface finish. The aluminum we use is .045″ thick and is  available in a variety of sizes and with a variety of finishing and mounting options. As with all of our other substrates and options, we really recommend that you make an appointment to come down to our production studio to see what we do here.
.045″ Aluminum thickness

Rounded Corners

Wide variety of finishing and mounting options

Scratch resistant

Water proof
Gloss White

Matte White

Gloss Silver

Matte Silver
Aluminum prints occasionally have minor surface imperfections or irregularities.
Our aluminum prints are printed using a process called dye sublimation.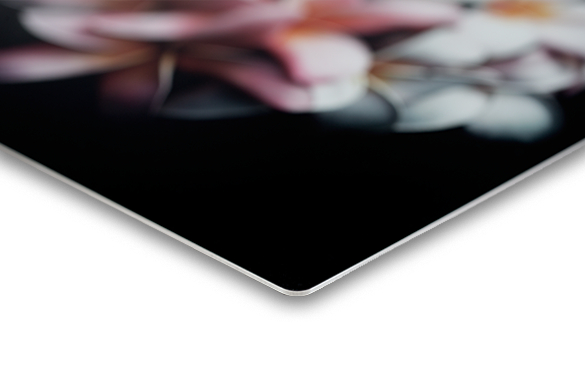 Longest lasting photo medium on the market:
Aluminum prints last 4x as long as the highest quality photo paper

Aluminum prints outlasted the next closest competitor in quality by a factor of 1.7 times the fluorescent lighting life of their photo paper

The high definition and vibrant colors, combined with superior fade, moisture, stain, and scratch resistant properties make our aluminum prints an excellent choice for commercial, fine art, and home decor applications.