Large Format Flatbed Scanning | Up to 36″ x 60″ @ 600 ppi
Print Resolution // 300 ppi
For printing at original size or up to 2x the size of the original artwork.
For printing 2 – 4x the original size of the original artwork.
This is when you need something more than 4x the original size of the original artwork.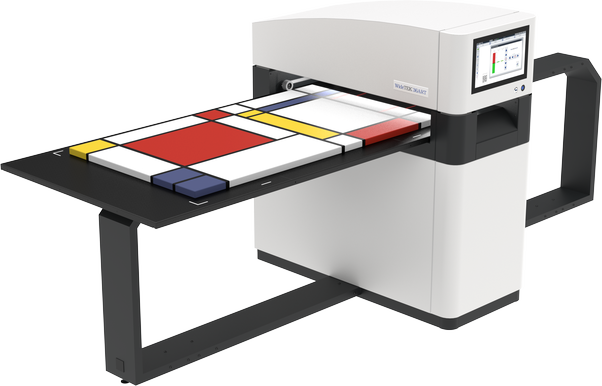 Your artwork is scanned face up, with no physical contact to the surface.
" I had a large painting scanned for print work after being disappointed by photography. The difference is night and day, the table scanner is so unbelievably good I couldn't be happier with the result. Also, super professional and organized company. Will for sure be back soon. " – Tyler S. [ October 2020 ]
Mediocre Files = Mediocre Prints
The first, and most important part of any successful fine art printing project, is getting a good file for printing.
If your files are questionable, we can help you get a print ready file using one of our available art scanning services.
We can provide you with a super high resolution image from small or large format original artwork up to 36″ x 60″.
For even larger pieces, our photography department can provide you with an exceptional digital capture for print.
To find your pricing, use the tables below. The left column and top row of each table are displayed as inches. Locate the width and height of the item you need to have scanned, and where those numbers intersect, that is your price. If you don't see the exact number you are looking for, proceed to the next ( higher ) measurement. Volume discounts are available if you are scanning more than 10 pcs.
| | | | | | | | | | |
| --- | --- | --- | --- | --- | --- | --- | --- | --- | --- |
| Size | 6" | 10" | 14" | 18" | 22" | 26" | 30" | 34" | 36" |
| 6" | $25 | $30 | $35 | $40 | $45 | $50 | $55 | $60 | $65 |
| 10" | $30 | $35 | $40 | $45 | $50 | $55 | $60 | $65 | $70 |
| 14" | $35 | $40 | $45 | $50 | $55 | $60 | $65 | $70 | $75 |
| 18" | $40 | $45 | $50 | $55 | $60 | $65 | $70 | $75 | $80 |
| 22" | $45 | $50 | $55 | $60 | $65 | $70 | $75 | $80 | $85 |
| 26" | $50 | $55 | $60 | $65 | $70 | $75 | $80 | $85 | $90 |
| 30" | $55 | $60 | $65 | $70 | $75 | $80 | $85 | $90 | $95 |
| 34" | $60 | $65 | $70 | $75 | $80 | $85 | $90 | $95 | $100 |
| 38" | $65 | $70 | $75 | $80 | $85 | $90 | $95 | $100 | $105 |
| 42" | $70 | $75 | $80 | $85 | $90 | $95 | $100 | $105 | $110 |
| 46" | $75 | $80 | $85 | $90 | $95 | $100 | $105 | $110 | $115 |
| 50" | $80 | $85 | $90 | $95 | $100 | $105 | $110 | $115 | $120 |
| 54" | $85 | $90 | $95 | $100 | $105 | $110 | $115 | $120 | $125 |
| 58" | $90 | $100 | $110 | $120 | $130 | $140 | $150 | $160 | $170 |
| 60" | $100 | $105 | $110 | $115 | $120 | $125 | $130 | $135 | $140 |
| | | | | | | | | | |
| --- | --- | --- | --- | --- | --- | --- | --- | --- | --- |
| Size | 6 | 10 | 14 | 18 | 22 | 26 | 30 | 34 | 36 |
| 6 | $40 | $50 | $60 | $70 | $80 | $90 | $100 | $110 | $120 |
| 10 | $50 | $60 | $70 | $80 | $90 | $100 | $110 | $120 | $130 |
| 14 | $60 | $70 | $80 | $90 | $100 | $110 | $120 | $130 | $140 |
| 18 | $70 | $80 | $90 | $100 | $110 | $120 | $130 | $140 | $150 |
| 22 | $80 | $90 | $100 | $110 | $120 | $130 | $140 | $150 | $160 |
| 26 | $90 | $100 | $110 | $120 | $130 | $140 | $150 | $160 | $170 |
| 30 | $100 | $110 | $120 | $130 | $140 | $150 | $160 | $170 | $180 |
| 34 | $110 | $120 | $130 | $140 | $150 | $160 | $170 | $180 | $190 |
| 38 | $120 | $130 | $140 | $150 | $160 | $170 | $180 | $190 | $200 |
| 42 | $130 | $140 | $150 | $160 | $170 | $180 | $190 | $200 | $210 |
| 46 | $140 | $150 | $160 | $170 | $180 | $190 | $200 | $210 | $220 |
| 50 | $150 | $160 | $170 | $180 | $190 | $200 | $210 | $220 | $230 |
| 54 | $160 | $170 | $180 | $190 | $200 | $210 | $220 | $230 | $240 |
| 58 | $170 | $180 | $190 | $200 | $210 | $220 | $230 | $240 | $250 |
| 60 | $180 | $190 | $200 | $210 | $220 | $230 | $240 | $250 | $260 |
| | | | | | | | | |
| --- | --- | --- | --- | --- | --- | --- | --- | --- |
| Size | 6 | 10 | 14 | 18 | 22 | 26 | 28 | 30 |
| 6 | $70 | $80 | $90 | $100 | $110 | $120 | $130 | $140 |
| 10 | $80 | $90 | $100 | $110 | $120 | $130 | $140 | $150 |
| 14 | $90 | $100 | $110 | $120 | $130 | $140 | $150 | $160 |
| 18 | $100 | $110 | $120 | $130 | $140 | $150 | $160 | $170 |
| 22 | $110 | $120 | $130 | $140 | $150 | $160 | $170 | $180 |