Large Format Flatbed Scanning | Up to 36″ x 60″ @ 600 ppi
The first, and most important part of any successful fine art printing project, is getting a good file for printing.
As a general rule, mediocre files = mediocre prints. If your files are questionable, we can help you get a print ready file using one of our available art scanning services.
We can provide you with a super high resolution image from small or large format original artwork up to 36″ x 60″.
For even larger pieces, our photography department can provide you with an exceptional digital capture for print.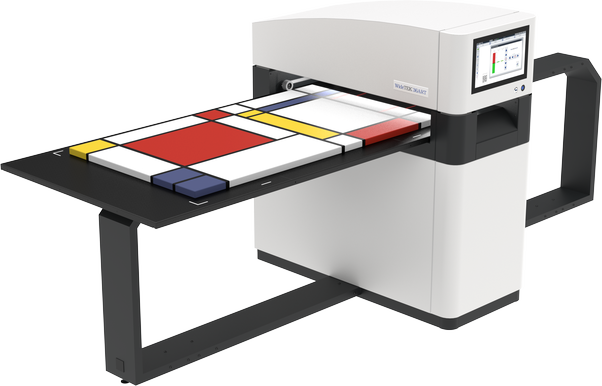 Your artwork is scanned face up, with no physical contact to the surface.
" Which resolution do I need? "

This depends on your end use of the scan. The options below should give you an idea of what you need. If you plan to enlarge your final prints considerably beyond the original size of the artwork, 600dpi or higher is recommended.
" What if I'm unable to come in to POV? "

We can work with you remotely by having you ship your artwork to us. We're experts at shipping artwork and will make sure your art gets back to you safely once the job is completed. Find out more about our Ship & Scan service.
Print Resolution // 300 ppi
For printing at original size or up to 2x the size of the original artwork.
For printing 2 – 4x the original size of the original artwork.
This is when you need something more than 4x the original size of the original artwork.
| | | | | | | | | | |
| --- | --- | --- | --- | --- | --- | --- | --- | --- | --- |
| Size | 6 | 10 | 14 | 18 | 22 | 26 | 30 | 34 | 36 |
| 6 | $25 | $30 | $35 | $40 | $45 | $50 | $55 | $60 | $65 |
| 10 | $30 | $35 | $40 | $45 | $50 | $55 | $60 | $65 | $70 |
| 14 | $35 | $40 | $45 | $50 | $55 | $60 | $65 | $70 | $75 |
| 18 | $40 | $45 | $50 | $55 | $60 | $65 | $70 | $75 | $80 |
| 22 | $45 | $50 | $55 | $60 | $65 | $70 | $75 | $80 | $85 |
| 26 | $50 | $55 | $60 | $65 | $70 | $75 | $80 | $85 | $90 |
| 30 | $55 | $60 | $65 | $70 | $75 | $80 | $85 | $90 | $95 |
| 34 | $60 | $65 | $70 | $75 | $80 | $85 | $90 | $95 | $100 |
| 38 | $65 | $70 | $75 | $80 | $85 | $90 | $95 | $100 | $105 |
| 42 | $70 | $75 | $80 | $85 | $90 | $95 | $100 | $105 | $110 |
| 46 | $75 | $80 | $85 | $90 | $95 | $100 | $105 | $110 | $115 |
| 50 | $80 | $85 | $90 | $95 | $100 | $105 | $110 | $115 | $120 |
| 54 | $85 | $90 | $95 | $100 | $105 | $110 | $115 | $120 | $125 |
| 58 | $90 | $100 | $110 | $120 | $130 | $140 | $150 | $160 | $170 |
| 60 | $100 | $105 | $110 | $115 | $120 | $125 | $130 | $135 | $140 |
| | | | | | | | | | |
| --- | --- | --- | --- | --- | --- | --- | --- | --- | --- |
| Size | 6 | 10 | 14 | 18 | 22 | 26 | 30 | 34 | 36 |
| 6 | $40 | $50 | $60 | $70 | $80 | $90 | $100 | $110 | $120 |
| 10 | $50 | $60 | $70 | $80 | $90 | $100 | $110 | $120 | $130 |
| 14 | $60 | $70 | $80 | $90 | $100 | $110 | $120 | $130 | $140 |
| 18 | $70 | $80 | $90 | $100 | $110 | $120 | $130 | $140 | $150 |
| 22 | $80 | $90 | $100 | $110 | $120 | $130 | $140 | $150 | $160 |
| 26 | $90 | $100 | $110 | $120 | $130 | $140 | $150 | $160 | $170 |
| 30 | $100 | $110 | $120 | $130 | $140 | $150 | $160 | $170 | $180 |
| 34 | $110 | $120 | $130 | $140 | $150 | $160 | $170 | $180 | $190 |
| 38 | $120 | $130 | $140 | $150 | $160 | $170 | $180 | $190 | $200 |
| 42 | $130 | $140 | $150 | $160 | $170 | $180 | $190 | $200 | $210 |
| 46 | $140 | $150 | $160 | $170 | $180 | $190 | $200 | $210 | $220 |
| 50 | $150 | $160 | $170 | $180 | $190 | $200 | $210 | $220 | $230 |
| 54 | $160 | $170 | $180 | $190 | $200 | $210 | $220 | $230 | $240 |
| 58 | $170 | $180 | $190 | $200 | $210 | $220 | $230 | $240 | $250 |
| 60 | $180 | $190 | $200 | $210 | $220 | $230 | $240 | $250 | $260 |
| | | | | | | | | |
| --- | --- | --- | --- | --- | --- | --- | --- | --- |
| Size | 6 | 10 | 14 | 18 | 22 | 26 | 28 | 30 |
| 6 | $70 | $80 | $90 | $100 | $110 | $120 | $130 | $140 |
| 10 | $80 | $90 | $100 | $110 | $120 | $130 | $140 | $150 |
| 14 | $90 | $100 | $110 | $120 | $130 | $140 | $150 | $160 |
| 18 | $100 | $110 | $120 | $130 | $140 | $150 | $160 | $170 |
| 22 | $110 | $120 | $130 | $140 | $150 | $160 | $170 | $180 |